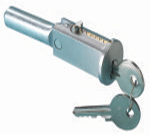 P1600/P1610 Round "Bullet" Lock
- Available in 96mm (standard - P1600) or 86mm (short - P1610) overall length.
- All brass bodied with hardened steel pin.
- Locking pin deadlocked at all times - can only be withdrawn by turn of the key.
- Available to differ, to pass in pairs or sets (maaximum 100 per set).
- Nickel Plated finish.
- Supplied with 2 numbered keys.