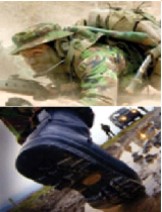 Walsall Locks Ltd has a long history of supplying locks and associated hardware to the UK MOD and over a period of more than 30 years, the Company has developed considerable expertise in this field. A large number of items have been manufactured or sourced for the UK MOD utilising the unique 13 digit Nato Stock Number (NSN) as reference.
Items supplied include all types of padlocks – high security, brass, laminated, lever, etc – camlocks, mortice locks, safe locks, brass cabinet locks, keys and keyblanks, hinges and associated hardware, and a host of specialist items for one-off requirements.
The Company prides itself on its ability to be able to meet any requirements for products, specialist deliveries, "one-off" sourcing etc.
In addition, products have been supplied to Defence Forces of other nations including Brazilian Navy and The Australian High Commission. The Company's "Catalogue" as detailed on this site covers only part of the wide list of products that are available for this market.
Please forward to us your enquiries and we will endeavour to meet your requirements.