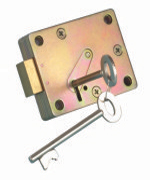 S1771 Series 7 Lever Laminated Safe Lock
- AVAILABLE IN "DOWN", "SIDE" AND "UP" SHOOT VERSIONS:

- S1771-96 Down Shoot.
- S1772-96 Side Shoot (illustrated).
- S1773-96 Up Shoot.

- S1774-96 3-Way Keyhole

- 7 brass lever mechanism.
- Zinc passivated finish steel laminated case.
- Available with or without key retention (not S1773-96/S1774-96).
- 10mm bolt throw.
- 24.5mm backset to centre of drill pin.
- Supplied with 2 steel keys.


- Not suitable for Master Keying.